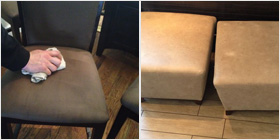 Furniture Cleaning
Aside from floors, furniture is probably the most used item in the home or office. It is sat on, hands come to rest on it, it is slept in, items are stored in it and kids, even adults, climb all over it. Furniture cleaning and upholstery cleaning are an important part of maintenance of your home or office.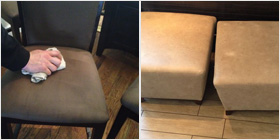 Each Item Is Assessed Before Cleaning Begins
Whether your bunk beds or your kitchen cabinets need cleaning, Philadelphia Furniture cleaning service offers a team of highly qualified technicians who assess the exact cleaning treatment your house requires. We do not just clean by wiping a duster over the furniture. Each piece is studied for its construction and the materials used, only then do the team of professional cleaners decide on the best method of cleaning. For example a leather sofa needs to be cleaned with a damp cloth and polished with a specially formulated cream for leather. The rocking chair which is an antique heirloom from many generations ago has to be treated with the utmost care and consideration.
A Thorough and Efficient Service
Whether it is the living room furniture, the kitchen furniture, bathroom cabinets or bedroom furniture, the team from UCM Cleaning Services will recommend the best cleaning agents and methods for each particular piece. If there is upholstery on the furniture, this is protected while the team cleans. All furniture is moved in order to clean all around it, top to bottom and of course it is replaced exactly where it was. Philadelphia furniture cleaning service is thorough and efficient and helps you to preserve your furniture.